3. A/C Technical Library. (TBC)
4b. Diagnostic Overview. (TBC)
Who will Benefit
Technicians who have never worked with air conditioning systems - it's ideal if you have a limited knowledge.
How you will be trained:
A mixture of 'hands on' lectures, practical demonstrations and workshop sessions.

The effectiveness of the course will be assessed. A course manual will be issued.
To purchase this Computer Based Course please
6.

Run by our City & Guilds approved instructor - Various dates are available throughout the year.
Please
7.
8. Reference books such as the , can provide an invaluable source of knowledge.

Our work, as specialists in Automotive Airconditioning, has been acknowledged by Haynes in the book below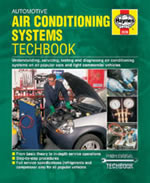 9.
These provide a better understanding of the internal workings of a compressor and are available for purchase from Compressortech for training and display purposes